Silk Printed Fabric
Silk Printed Fabric
Silk fabric can be printed method by hand block printing, perrotine printing, engraved copperplate printing, roller printing (cylinder printing, or machine printing), stencil printing, digital textile printing, and screen printing. Conventional screen printing is widely used for long time and digital textile printing is spread rapidly now a day, with benefit of no color limitation unlike regular conventional screen print.

Digital textile printing, often referred to as direct to garment printing, DTG printing, and digital garment printing is a process of printing on textiles and garments using specialized or modified inkjet technology. Inkjet printing on fabric is also possible with an inkjet printer by using fabric sheets with a removable paper backing. Today major inkjet technology manufacturers can offer specialized products designed for direct printing on textiles, not only for sampling but also for bulk production. Printing onto silk can be done by using an acid ink. Reactive ink is used for cellulose based fibers, such as natural yarn dyed family, cotton and linen. Using inkjet technology in digital textile printing allows for smaller sample quantity in yards, mid-run production and even long-run alternatives to screen printed fabric with no limit in number of colors on silk fabric.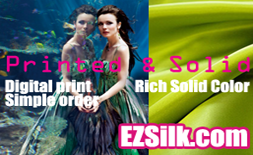 You can refer to actual "Silk Printed Fabric" in fashion market for more detail. EZSilk.com is one of the most popular in fashion industry and they have 144 silk solid colors and thousands of gorgeous printed silk fabric. EZSilk offers FREE 144 colors Color Card and Fabric Swatches.

Silk networks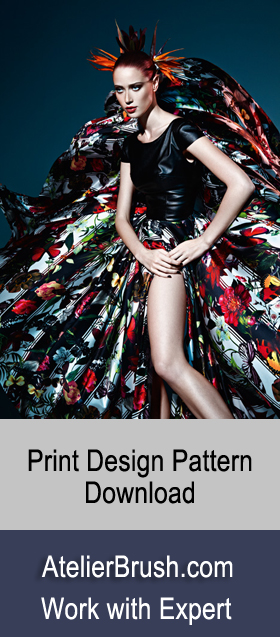 Silk Fabric Types:
Silk Charmeuse 19mm, 16mm
Silk Chiffion 6mm, 8mm, 12mm
Silk CDC 16mm, 19mm
Silk Organza 6mm, 8mm, 12mm
Silk Habotai (China Silk) 6mm, 8mm Silk Shantung 17mm, 19mm
Silk Dupioni 17mm, 34mm
Silk Twill 12mm, 14mm, 16mm
Silk Duchess Satin 35mm
Silk Cotton Voile 9mm
Silk Stretch Charmeuse 16mm, 19mm
Silk Blended Novelty Fabrics
-Silk Weight: mm (It's called Mommy)