Silk Printed Fabric
Silk Printed Fabric
Silk fabric can be printed method by hand block printing, perrotine printing, engraved copperplate printing, roller printing (cylinder printing, or machine printing), stencil printing, digital textile printing, and screen printing. Conventional screen printing is widely used for long time and digital textile printing is spread rapidly now a day, with benefit of no color limitation unlike regular conventional screen print.

Digital textile printing, often referred to as direct to garment printing, DTG printing, and digital garment printing is a process of printing on textiles and garments using specialized or modified inkjet technology. Inkjet printing on fabric is also possible with an inkjet printer by using fabric sheets with a removable paper backing. Today major inkjet technology manufacturers can offer specialized products designed for direct printing on textiles, not only for sampling but also for bulk production. Printing onto silk can be done by using an acid ink. Reactive ink is used for cellulose based fibers, such as natural yarn dyed family, cotton and linen. Using inkjet technology in digital textile printing allows for smaller sample quantity in yards, mid-run production and even long-run alternatives to screen printed fabric with no limit in number of colors on silk fabric.

The Types of Silk Printed Textile Design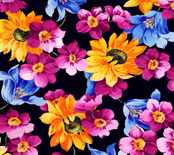 Allover Print: An allover layout contains motifs that are closely and evenly distributed. It is seamless so it can be repeated without showing the join. Depending on the direction of the patterns, an allover can be non-directional (no "preferred" direction; useful in bold areas), one-directional (definite upward direction), or two-directional (contains both horizontal and vertical directions).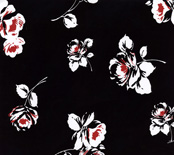 Tossed Print: As with its name, in a tossed layout, floral patterns are scattered in a unit of pattern as if the flowers have been "tossed". Although the patterns seem random, placement and direction of motifs should be carefully examined to prevent tracking (unintentional lines).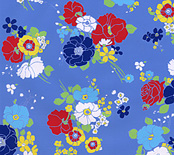 Bouquet Print: In a bouquet layout, the patterns are consisted of a small cluster or arrangement of flowers. This layout is usually used for feminine and romantic feel.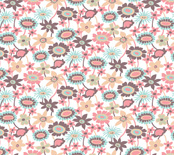 Neats Print: A neat is a type of an allover, containing small flowers spread out in a unit of pattern. Patterns often convey the image of small flowers on a grass field.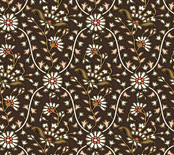 Sarasa Print: Instead of actual images of flowers, a sarasa layout contains flattened and geometric floral images. This layout is very decorative and fancy.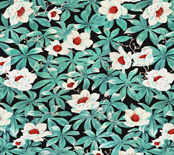 Bush Print: A bush layout contains leaves and stems of the flowers in addition to petals.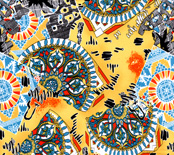 Conversational Print: Conversational layouts have recognizable objects as the motifs. Such designs are more representational of the objects they depict. As compared to geometric patterns, a conversational patterns draw attention through pictorial elements. Designs with many motifs, when a specific form other than object repeats to create a unique ambiance, are also considered conversational designs.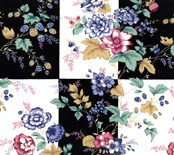 Compositional Print: In a compositional layout, one or more motifs are positioned specifically in different formations to create new patterns. Even floral motifs can be used as compositional depending on how it is positioned with other motifs. Different juxtaposition can make the patterns bolder and stronger.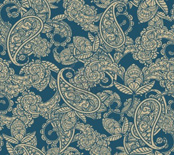 Paisley: The term "paisley" was coined in Paisley, Scotland where shawl originated because Paisley pattern was first found on a cashmere shawl. It emulates, in an abstract way, the form of the seed from the palm tree of life and eternity that is often found in Indian legends. The design looks like a mango or a fig cut in half. Some say it is the shape of a teardrop, pine, and even tadpoles. The patterns developed from the form of plant, stem, flower heads to create colorful and elegant image.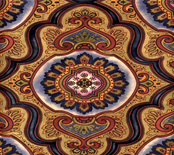 Renaissance: During the time of Renaissance, Europeans were inspired by the designs on handmade textile. Renaissance patterns often give the rich feel of tailored velvet, silk twill, or silk weaved with gold and silver thread.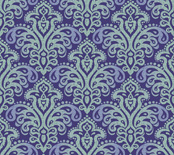 Baroque: Atelier Brush introduces the Baroque, rococo style's design that follows the luxurious and enriched style of royal courts. Baroque layout is distinguished by its fancy and complicated décor. It often utilizes damask, vine, and floral shapes as base motifs with spiral and curvy lines.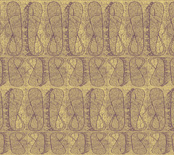 Art Nouveau: Art Nouveau originated from arts popular in the end of 19th century to early 20th century. It is characterized by dynamic, flowing curves that suggest foliate motifs. Art Nouveau layout also uses swan, flower buds, plants, vines, and other objects of nature with sophisticated lines.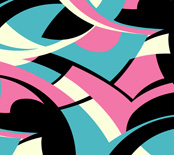 Art Deco: Art Deco is a style of decorative art that was prevalent in 1920s and 1930s. It has strong decorative characteristics. Its linear symmetry is distinct and is influenced by many different styles of the early 20th century, such as Neoclassical, Constructivism, Cubism, Modernism, and Futurism. Art Deco layout also draws inspiration from ancient Egyptian and Aztec forms. Unlike Art Nouveau, it uses lines both straight and curvy to emphasize its geometric characteristics.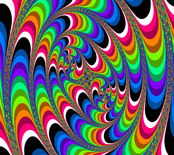 Psychedelic: Although psychedelic layout was a popular style in the 1960s, Atelier Brush classified it under the "Antique" category for its brilliant, yet pop-like feel created by the fluorescent colors.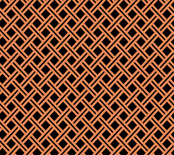 Basketweave & Trellis: Basketweave is an allover pattern that resembles the structure of a basket or a woven fabric. Unlike plaid, basket weave design has the horizontal and vertical lines overlapping without the colors mixing. Therefore, clothes made from this design give the feeling of protection and warmth in addition to visual pleasure. Trellis is a pattern that features a supporting structure of interwoven pieces of wood or metal sometimes adorned with climbing vines or flowers.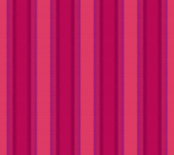 Simple stripe & Alternate stripe: Simple stripe has stripes of same width and interval positioned in constant direction and interval. It is the most basic stripe design. Alternate stripe has lines not necessarily straight. It may be made of different shapes (for example, Herringnone Stripe) or can be mixed with other motifs like flowers arranged evenly.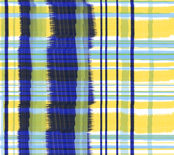 Basic plaid & Alternate plaid: Plaid is a design that consists of crossing bands or stripes of color, almost always at right angles. When the vertical and horizontal lines are relatively big and cross in a basic manner, it is classified as basic plaid. Alternate plaid include Houndtooth, Gingham, shepherd pattern that uses unique weaving styles. However, Argyle and Tartan patterns have been classified separately.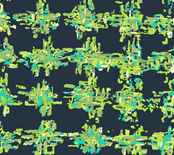 Print-noprint: Derived from abstracts designs that allow many different modifications, print-noprint has become its own design. It is when the patterns on fabric are not clear whether it has been purposely designed or created while weaving and processing. Such design requires sophisticated and intriguing expressions.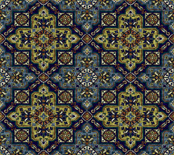 Gothic: Antique designs introduced on Atelier Brush are not actually from that time period but are modernized version of the Atelier Brush designers. The Gothic layouts are closely related to the Gothic architecture. Therefore, it includes patterns and designs inspired from medieval churches' unique arch-like structure and stained glasses.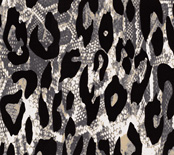 Skin vs. Animal: As a subcategory of a conversational layout, skin represents the designs of an animals' leather or fur while animal (which is a subcategory of nature) contains the entire image of animals that are used as motifs.
Printed Silk Fabric Width: 44" and 54"
44" and 54" are normally used in silk fabric. However, 44" width is the most commonly used on printed silk fabric in the both conventional screen print as well as digital print. No one has printed silk fabric of massive collections like EZSilk.com

Silk network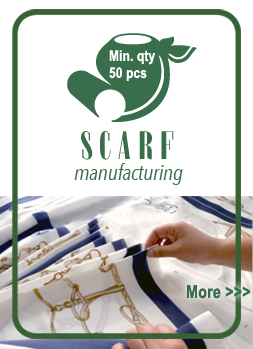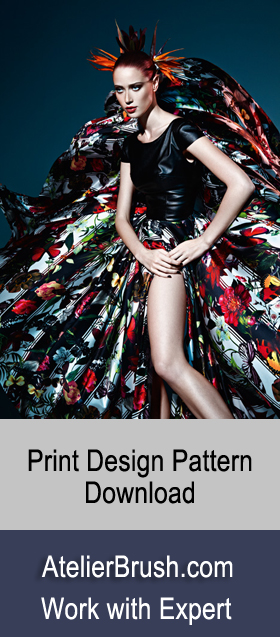 Silk Fabric Types:
Silk Charmeuse 19mm, 16mm
Silk Chiffion 6mm, 8mm, 12mm
Silk CDC 16mm, 19mm
Silk Organza 6mm, 8mm, 12mm
Silk Habotai (China Silk) 6mm, 8mm Silk Shantung 17mm, 19mm
Silk Dupioni 17mm, 34mm
Silk Twill 12mm, 14mm, 16mm
Silk Duchess Satin 35mm
Silk Cotton Voile 9mm
Silk Stretch Charmeuse 16mm, 19mm
Silk Blended Novelty Fabrics

-Silk Weight: mm (It's called Mommy)